Raising Money For Cancer Research

Click here for event pictures & videos
Foster Foundation Volunteers Stephanie Leondis and Diana Leondis.
On Sunday, September 19th, the Foster Foundation, founded by Garden City resident Stacey Leondis, had a "5 on 5" fundraiser at The Island Garden Basketball facility. The event was an overwhelming success, raising in excess of $120,000 for pediatric cancer research. The Foster Foundation is an active supporter of cutting-edge medical research and has been acknowledged in numerous published scientific papers. The foundation's goal is to fiund research that will help in battling pediatric cancers by improving current diagnostic, treatment and follow-up procedures. A special thanks to Mark Fisher, Jim Fox and Rosemary Nies of Island Garden, who graciously donated the facility and helped with their planning expertise.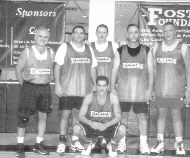 Winning team "JAF Converters" after their championship game.
Additionally, the Foster Foundation raised $30,000 in a recent "Pin Mailer" solicitation. The foundation would like to thank all those who helped in this worthy effort! Anyone wishing to contribute can make a tax deductible donation via the groups web site online store at www.fosterfoundation.com.
Since its inception three years ago, the Foster Foundation has raised in excess of $900,000. The Foster Foundation is an IRS approved and New York State registered 501 © (3) charitable organization.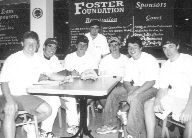 Garden City High School students take a well earned break from volunteering duties. From left: Justin Lynch, Jack McAuliffe, Tony Leondis, Mike Catania, Corey Garvey, Chris Ciguera and Mike A. McCarthy.